Massachusetts ANG F-15 Eagle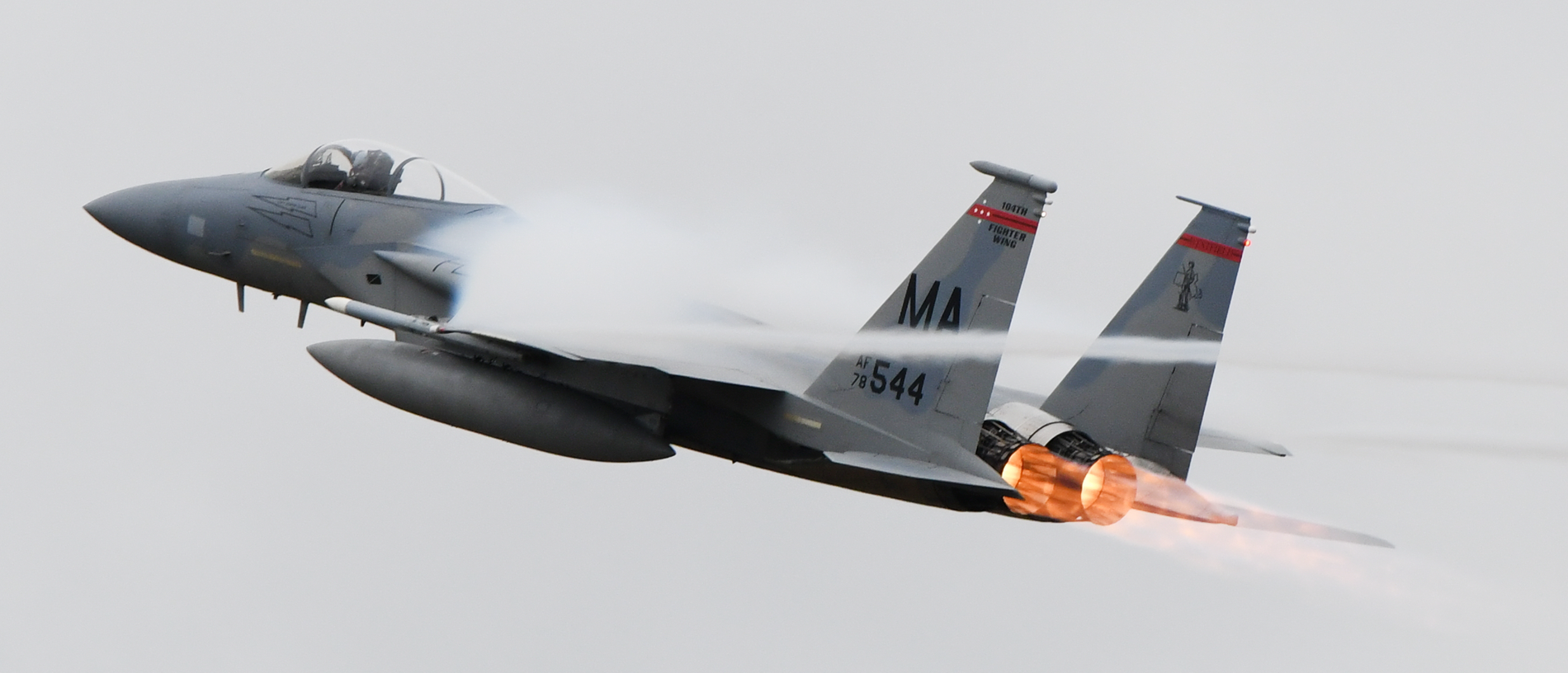 The F-15 Eagle is an all-weather, extremely maneuverable, tactical fighter designed to permit the Air Force to gain and maintain air supremacy over the battlefield. The Eagle's air superiority is achieved through a mixture of unprecedented maneuverability and acceleration, range, weapons and avionics. It can penetrate enemy defense and outperform and outfight any current enemy aircraft.
The F-15 hasel ectronic systems and weaponry to detect, acquire, track and attack enemy aircraft
while operating in friendly or enemy-controlled airspace. The weapons and flight control
systems are designed so one person can safely and effectively perform air-to-air combat.
Background
The first F-15A flight was made in July 1972, and the first flight of the two-seat F-15B(formerly TF-15A) trainer was made in July 1973. The first Eagle (F-15B) was delivered in November 1974. In January 1976, the first Eagle destined for a combat squadron was delivered.
The single-seat F-15C and two-seat F-15D models entered the Air Force inventory beginning in 1979. These new models have Production Eagle Package (PEP 2000) improvements, including 2,000 pounds (900 kilograms) of additional internal fuel, provision for carrying exterior conformal fuel tanks and increased maximum takeoff weight of up to 68,000 pounds (30,600 kilograms).
The F-15 Multistage Improvement Program was initiated in February 1983, with the first production MSIP F-15C produced in 1985. Improvements included an upgraded centralcomputer; a Programmable Armament Control Set allowing for advanced versions of  the AIM-7, AIM-9 and AIM-120A missiles, and an expanded Tactical Electronic Warfare System that provides improvements to the ALR-56C radar warning receiver and ALQ-135 countermeasure set. The final 43 included a Hughes APG-70 radar.
General Characteristics
Power plant: Two Pratt & Whitney F100-PW-100, 220 or 229 turbofan engines with afterburners
Wingspan: 42.8 feet (13 meters)
Length: 63.8 feet (19.44 meters)
Height: 18.5 feet (5.6 meters)
Weight: 31,700 pounds
Maximum takeoff weight: (C/D models) 68,000 pounds (30,844 kilograms)
Speed: 1,875 mph (Mach 2 class)
Range: 3,450 miles (3,000 nautical miles) ferry range with conformal fuel tanks and three external fuel tanks
Crew: F-15A/C, one; F-15B/D/E, two
Learn More: https://www.af.mil/About-Us/Fact-Sheets/Display/Article/104501/f-15-eagle/
Follow Our Social Channels
©2023 Thunder Over New Hampshire Air Show | Site designed and maintained by HERB GILLEN ADVERTISING
*This web site is not an official U.S. Air Force or Air National Guard production. No government endorsement of supporting partners is intended.