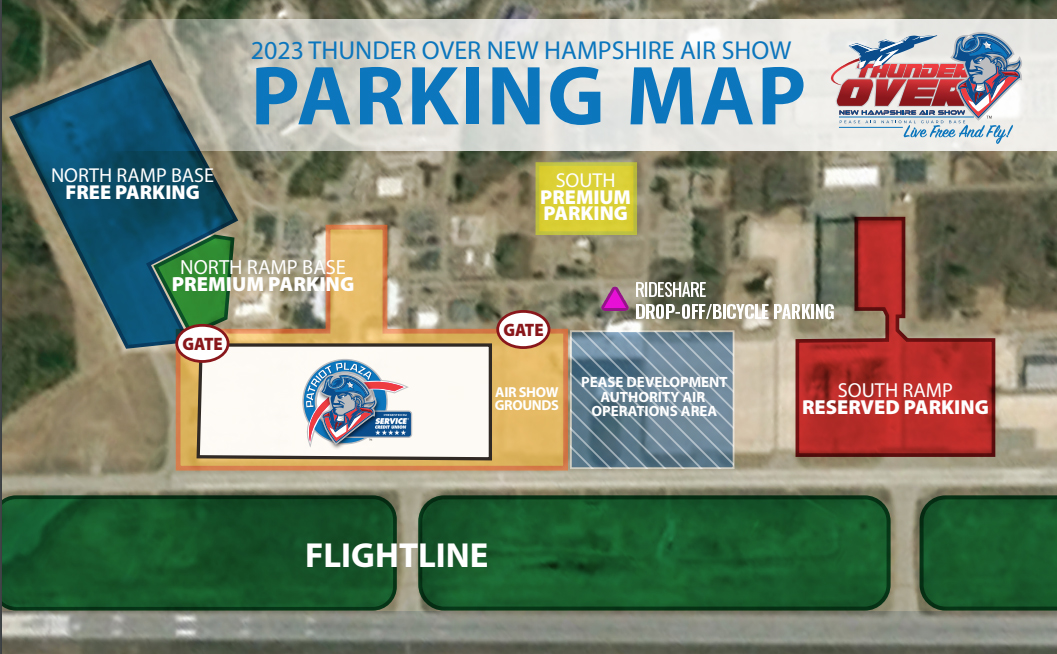 (Updated 8.8.23)
Thank you for your interest in the 2023 Thunder Over New Hampshire Air Show to be held September 9 and 10 at Pease Air National Guard Base. Demand for parking has been unprecedented and in fact when parking passes became available in March, thousands of free parking passes were reserved in just a few hours. The premium parking that we had on sale also sold out in a matter of days.
We are pleased to announce that we have been able to obtain a limited amount of additional parking space. We want to thank the Pease Development Authority, who worked very hard to help identify and secure additional parking for this year's event. Those tickets were released to the public on Saturday, July 8th and they have been selling quickly and are anticipated to sell out in advance of the event.
We appreciate the enthusiasm for the event. We want you to know that it is our desire to host as many guests as is safely possible at this year's show. Our goal is to provide an enjoyable guest experience for those attending the show. It is not our desire to return to the frustration of hours in traffic and sitting in parking lots that were common in the shows that were held at Pease a little more than a decade ago. Our traffic and parking plan implemented in 2021 allowed for much easier ingress and egress and we are using a modified version of that plan in 2023.
We also have been able to establish a rideshare drop-off and bicycle parking location that will be located near the South gate in front of the Pease terminal building. Please be advised that traffic is expected to be heavy and you should allow for plenty of time in advance to arrive at the show.
The safety and comfort of our guests will continue to be the overriding concerns in any decisions.  We will provide updates via social media, the show website and email of our traffic and parking plans as additional details become available. For the latest information as to when more parking options are available, sign up for Air Show Insights on the TONH website.
Follow Our Social Channels
©2023 Thunder Over New Hampshire Air Show | Site designed and maintained by HERB GILLEN ADVERTISING
*This web site is not an official U.S. Air Force or Air National Guard production. No government endorsement of supporting partners is intended.