Vermont Air National Guard F-35A Lightning II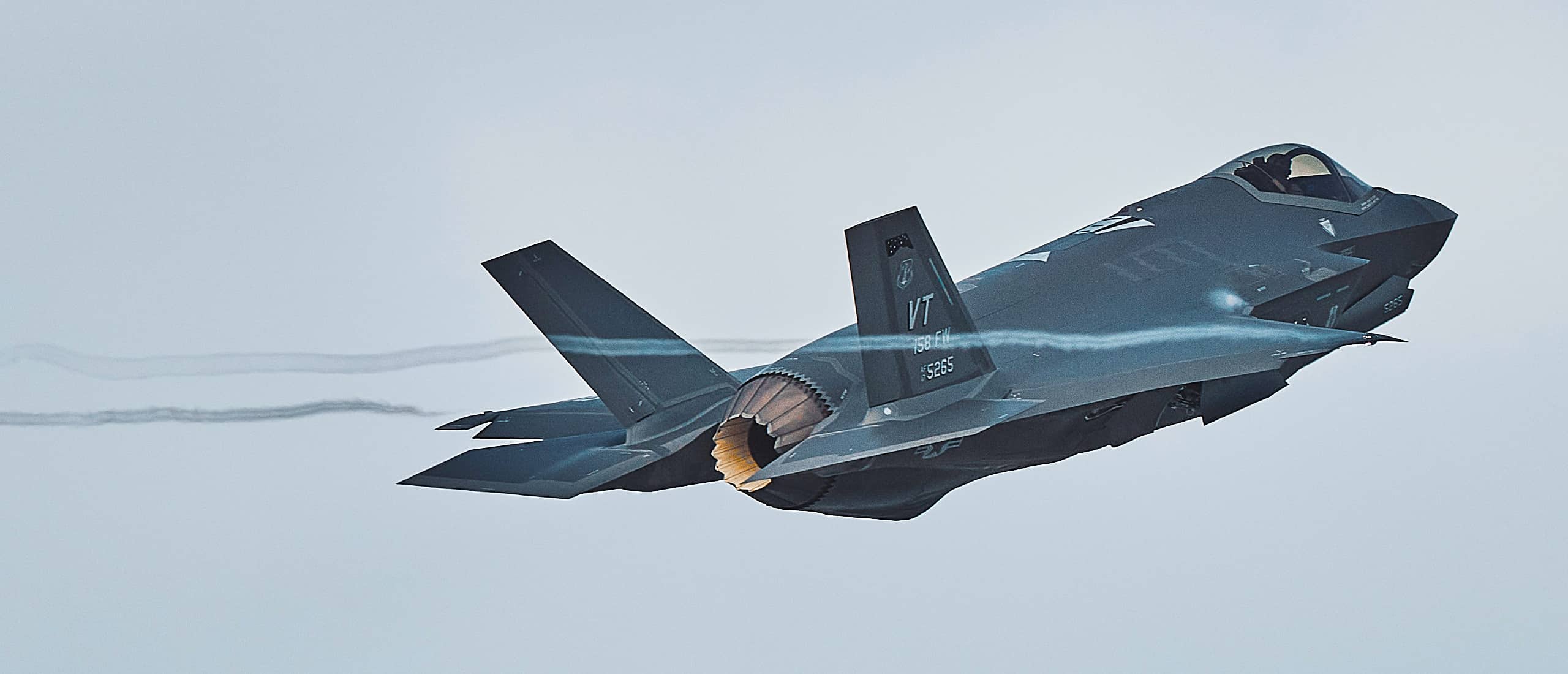 The F-35A is the U.S. Air Force's latest fifth-generation fighter. It will replace the U.S. Air Force's aging fleet of F-16 Fighting Falcons and A-10 Thunderbolt II's, which have been the primary fighter aircraft for more than 20 years, and bring with it an enhanced capability to survive in the advanced threat environment in which it was designed to operate. With its aerodynamic performance and advanced integrated avionics, the F-35A will provide next-generation stealth, enhanced situational awareness, and reduced vulnerability for the United States and allied nations.
General Characteristics
Primary Function: Multirole fighter
Prime Contractor: Lockheed Martin
Power Plant: One Pratt & Whitney F135-PW-100 turbofan engine
Thrust: 43,000 pounds
Wingspan: 35 feet (10.7 meters)
Length: 51 feet (15.7 meters)
Height: 14 feet (4.38 meters)
Maximum Takeoff Weight: 70,000 pound class
Fuel Capacity: Internal: 18,498 pounds
Payload: 18,000 pounds (8,160 kilograms)
Speed: Mach 1.6 (~1,200 mph)
Range: More than 1,350 miles with internal fuel (1,200+ nautical miles), unlimited with aerial refueling
Ceiling: Above 50,000 feet (15 kilometers)
Armament: Internal and external capability. Munitions carried vary based on mission requirements.
Crew: One
The Vermont Air National Guard is the proud home of the 158th Fighter Wing. Federally recognized in August of 1946 with the 134th Fighter Squadron, the Green Mountain Boys began their first flying mission with the F-47 and historically became the first Air National Guard unit to base the F-35A Lightning II, the most advanced and capable weapon system in the U.S. Air Force, in September 2019.
Follow Our Social Channels
©2023 Thunder Over New Hampshire Air Show | Site designed and maintained by HERB GILLEN ADVERTISING
*This web site is not an official U.S. Air Force or Air National Guard production. No government endorsement of supporting partners is intended.