U.S. Air Force F-16 Viper Demo Team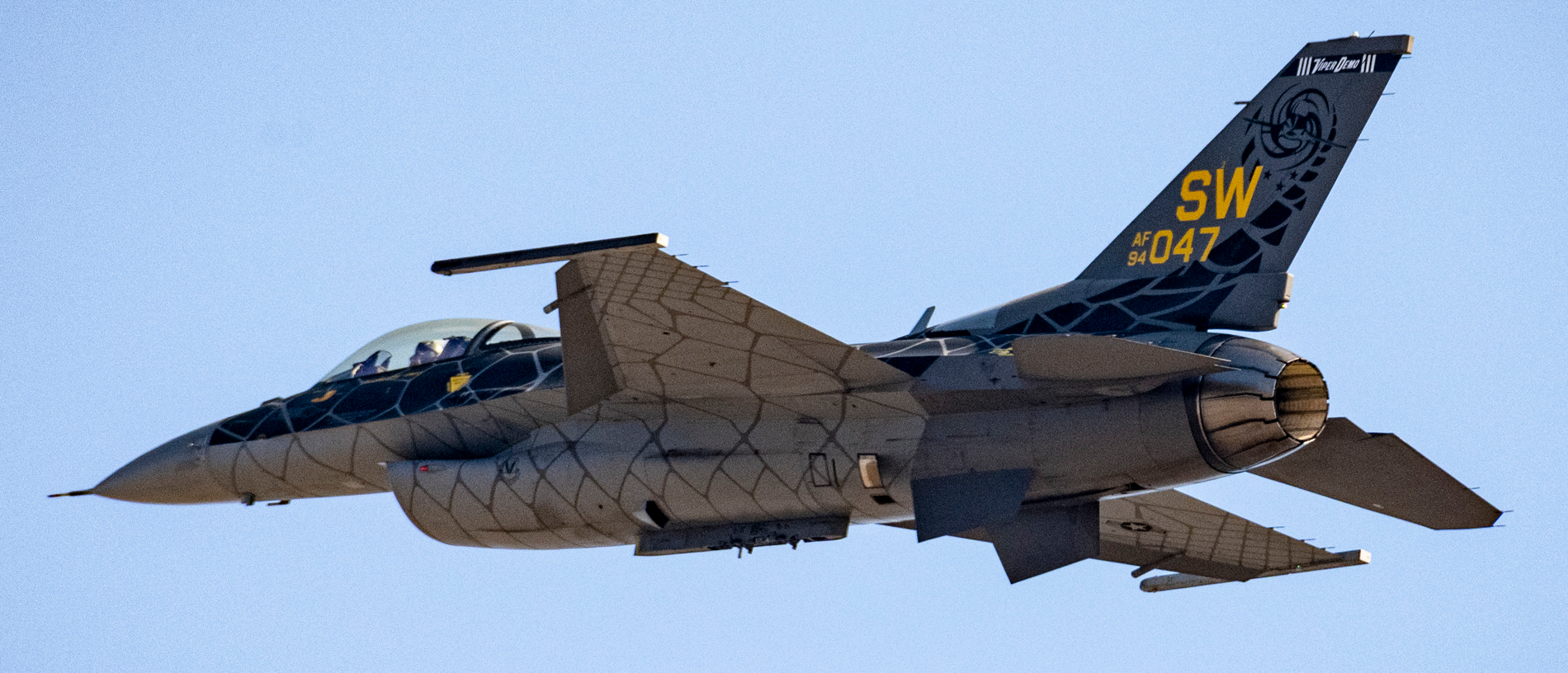 The Lockheed-Martin F-16C Fighting Falcon Block 50 model is a compact, multi-role fighter aircraft that is the primary weapons system of the 20th Fighter Wing.  It is highly maneuverable and has proven itself in more than 30 years of operations including air-to-air combat and air-to-surface attack.
Only four USAF units operate the C model: 20th Fighter Wing, Shaw Air Force Base, S.C. (three squadrons); 169th Fighter Wing, Joint National Guard Base McEntire, S.C. (one squadron); 52nd Fighter Wing, Spangdahlem Air Base, Germany (one squadron); and 35th Fighter Wing, Misawa AB, Japan (two squadrons).
General Characteristics (F-16C)
Power Plant: One Pratt and Whitney F100-PW-200/220/229 or General Electric F110-GE-100/129
Thrust: 29,000 pounds
Wingspan: 32 feet, 8 inches (9.8 meters)
Length: 49 feet, 5 inches (14.8 meters)
Height: 16 feet (4.8 meters)
Weight: 19,700 pounds without fuel (8,936 kilograms)
Maximum Takeoff Weight: 39,000 pounds (17,690 kilograms)
Speed: 1,500 mph (Mach 2 at altitude)
Range: More than 2,002 miles ferry range (1,740 nautical miles)
Crew: F-16C, one
Learn more: https://www.shaw.af.mil/About-Us/Fact-sheets/Display/Article/663884/f-16c-fighting-falcon/
Follow Our Social Channels
©2023 Thunder Over New Hampshire Air Show | Site designed and maintained by HERB GILLEN ADVERTISING
*This web site is not an official U.S. Air Force or Air National Guard production. No government endorsement of supporting partners is intended.