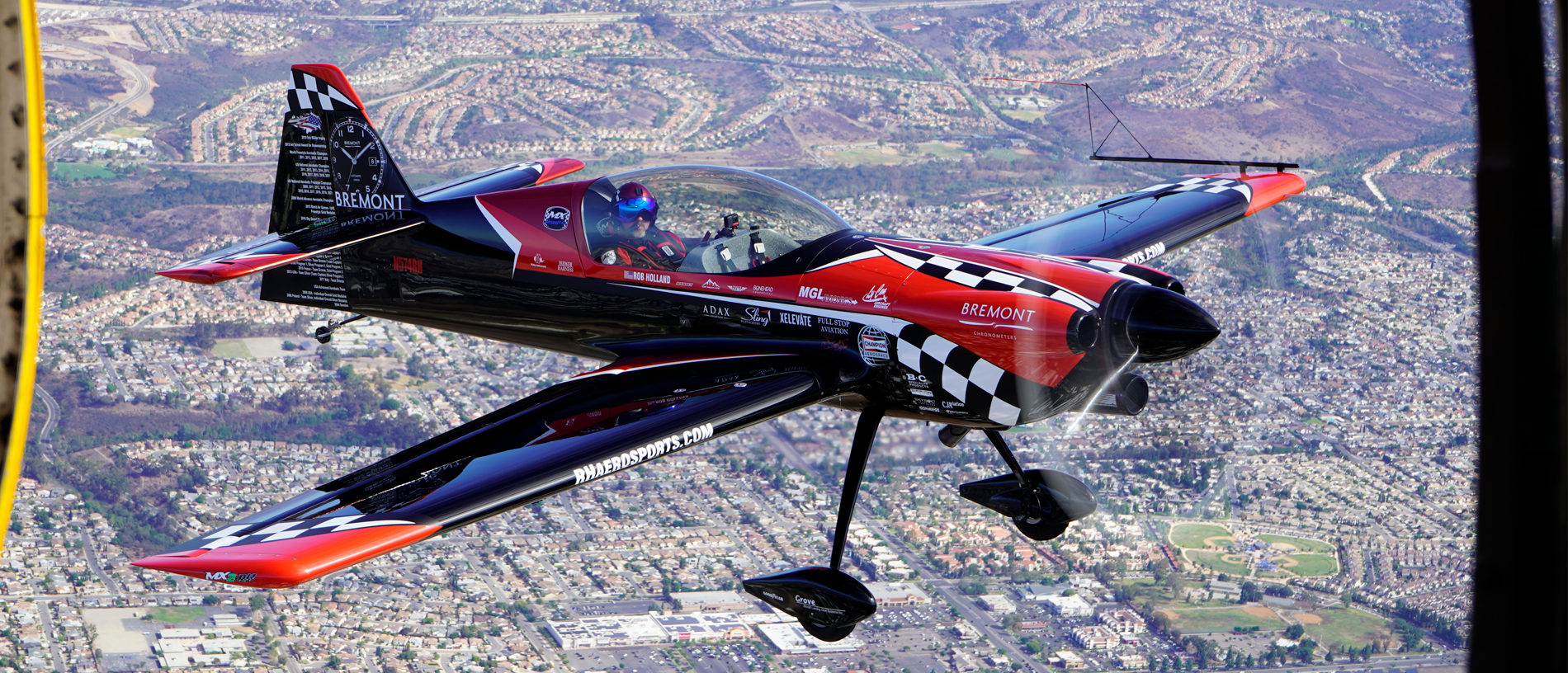 Rob's rise to the top started as a young airshow fan in his native New England. Earning his pilot's license while still a teenager, Rob began flying aerobatics almost immediately, all while building valuable flight time and experience as a corporate pilot, commuter pilot, banner tower, flight instructor, ferry pilot, and operating his own aerobatic flight school.
Now in his 18th year as a full-time airshow pilot, Rob has distinguished himself by blazing a trail of innovation, developing maneuvers never before seen at an airshows. "One of my goals is to take aerobatics to the next level," Rob explains. "I want to push the limits of what can be done." But while his impact and influence on the airshow community is undeniable, his remarkable skills at the controls of his MXS-RH are matched with a humble and approachable demeanor that has forged a unique connection with countless fans all over the world.
ABOUT THE MXS-RH
Based on the popular MXS, the MXS-RH is a one-of-a-kind, all carbon-fiber masterpiece. This single seat, competition and airshow - ready aircraft is designed and built by MX Aircraft in North Carolina, and incorporates design modifications suggested by Rob himself. Powering this aerobatic monster is a Lycoming engine producing 380 horsepower.
Weighing in at a minimal 1200 pounds, this state-of-the-art aerobatic masterpiece boasts astonishing performance, is capable of pulling 16 positive and negative Gs, and rolls at nearly 500 degrees per second. In the skilled hands of a master like Rob Holland, the MXS-RH's performance is "game-changing" and allows him to perform the innovated maneuvers unequalled on the airshow circuit.
Follow Our Social Channels
©2023 Thunder Over New Hampshire Air Show | Site designed and maintained by HERB GILLEN ADVERTISING
*This web site is not an official U.S. Air Force or Air National Guard production. No government endorsement of supporting partners is intended.