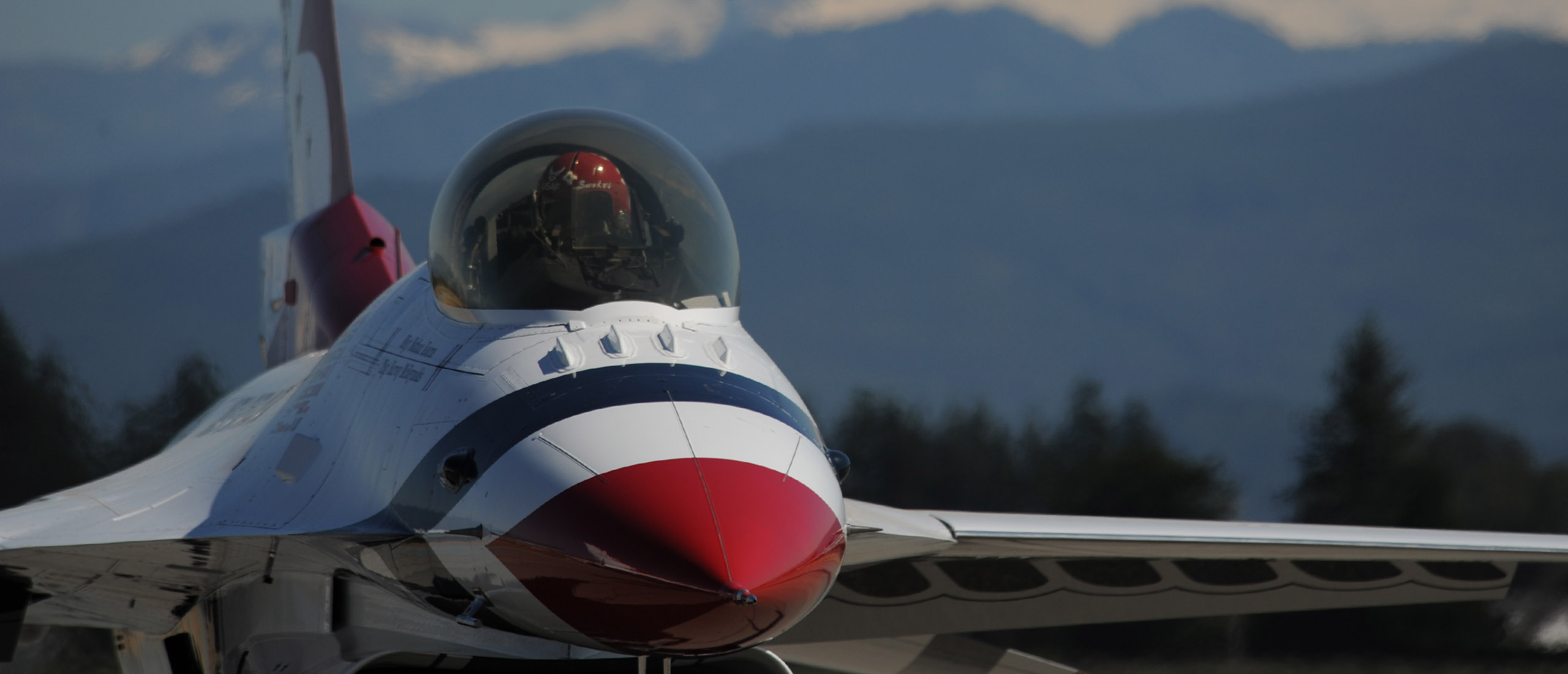 In 1947, while the jet age was still in its infancy, military aviation was hurtled into the future with the creation of the U.S. Air Force as a separate service.  Just six years later, on May 25, 1953, the Air Force's official air demonstration team, designated the 3600th Air Demonstration Unit, was activated at Luke Air Force Base, Ariz. The unit adopted the name "Thunderbirds," influenced in part by the strong Native American culture and folklore from the southwestern United States where Luke Air Force Base is located.
Their current aircraft - the Lockheed Martin (formerly General Dynamics) F-16 -  represents the full range of capabilities possessed by the Air Force's tactical fighters. This highly maneuverable multi-role fighter has proven to be one of the world's best precision tactical bombers and air-to-air combat aircraft.
Every officer has a specific and crucial role in the broad Thunderbirds mission, and traditionally, officers assigned to the team adopt their number as their unofficial "call sign." Eight of the 12 officers assigned to the team are highly experienced fighter pilots. Thunderbirds 1-6 fly in the air show demonstrations; Thunderbird 7 is the operations officer; and Thunderbird 8 is the advance pilot and narrator, coordinating last-minute logistical details at show sites and lending his voice to describe the maneuvers during the show. Thunderbirds 9-12 are support officers who perform expert medical, administrative, maintenance and public affairs functions.
This year, the Thunderbirds, will debut their redesigned aerial demonstration, to include an updated ground show performance. The most noticeable changes to the performance are the reordering and implementation of new maneuvers during the aerial demonstration. The new show sequence now follows seven distinct themes that focus on increasing crowd excitement, tapping into the emotions of onlookers and showcasing the complexities of the maneuvers in a gradual manner.
Follow Our Social Channels
©2023 Thunder Over New Hampshire Air Show | Site designed and maintained by HERB GILLEN ADVERTISING
*This web site is not an official U.S. Air Force or Air National Guard production. No government endorsement of supporting partners is intended.