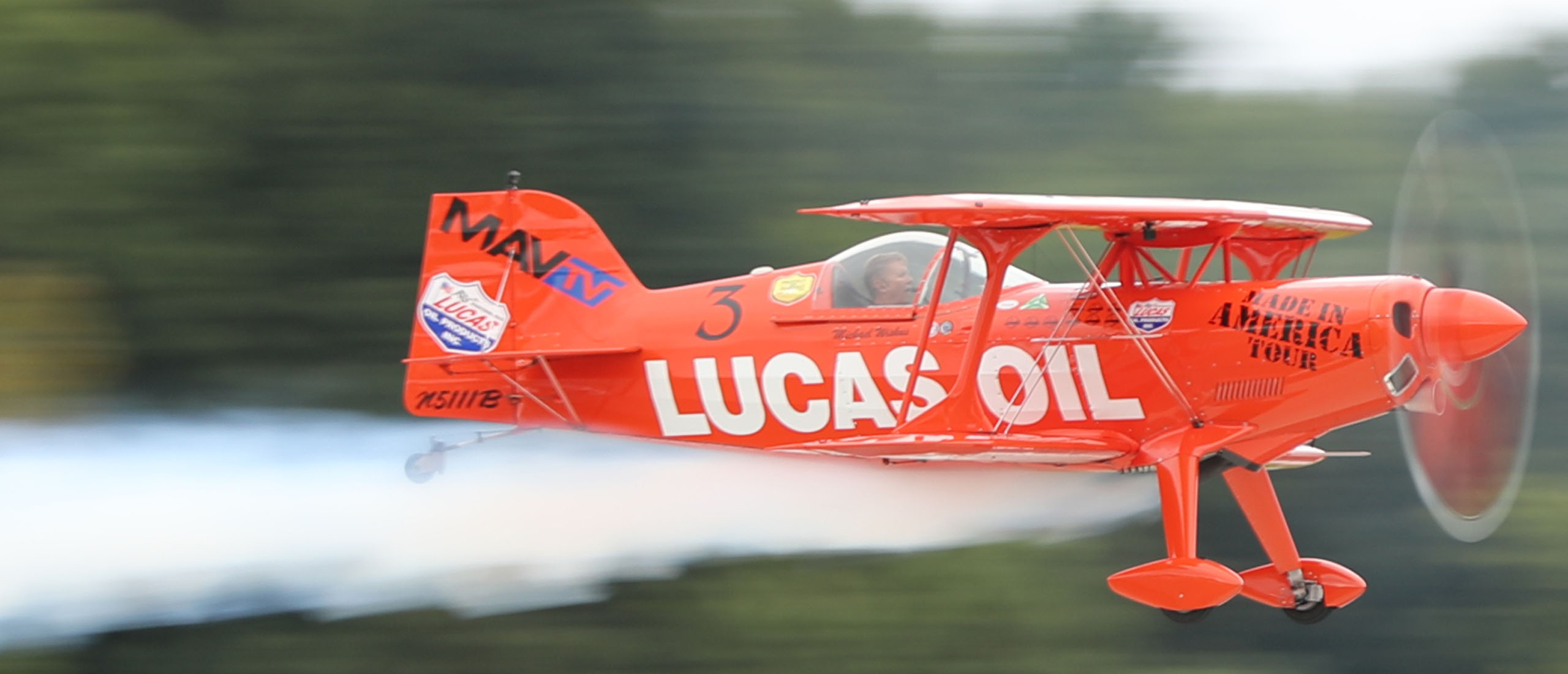 Like many of the show pilots, Mike's passion for aviation started when he was very young. Mike's Dad took him to his first air show at their hometown in Iowa at the age of 10. That show made an everlasting impression so deep that at 14, Mike rode his bike to the airport for two weeks straight and bugged the owner for a job washing airplanes and cleaning hangars just to be around airplanes. He traded his work of washing airplanes for flying lessons and received his Pilot's License on his 17th birthday.
Forty years later, Mike has accumulated more than 25,000 flight hours and has qualified in more than 40 aircraft. Mike's air show career is a testimony of how dreams really can come true. As a 2002 U.S. National Aerobatic Champion, and a member of the 2004 U.S. Aerobatic Team, Mike has traveled the World with the same aircraft you will see him performing in at your air show. 
ABOUT THE AIRCRAFT
Known as the Super Stinker, the S-1-11B was created for competition aerobatics. A field that was becoming more and more dominated by monoplanes. Especially Soviet machines such as the SU-26, -29, and -31 at the time. In fact, Mike took this particular Super Stinker to a silver medal in the 2004 world championships in Sweden.
He's owned the Lucas Oil Pitts S-1-11B since 2000 and, with the help of Tom Kerns, rebuilt it after purchasing it on Ebay as a wreck. The Lucas Oil Pitts has been extremely modified from it's original build. Adding full span ailerons for a faster roll rate, 60% larger rudder and elevator for more authority, longer gear allowing Michael to stand the aircraft up in place without hitting the propeller, always striving to get just that much more out of this incredible bird.
Follow Our Social Channels
©2023 Thunder Over New Hampshire Air Show | Site designed and maintained by HERB GILLEN ADVERTISING
*This web site is not an official U.S. Air Force or Air National Guard production. No government endorsement of supporting partners is intended.