U.S. Air Force C-17 Globemaster Demo, McChord AFB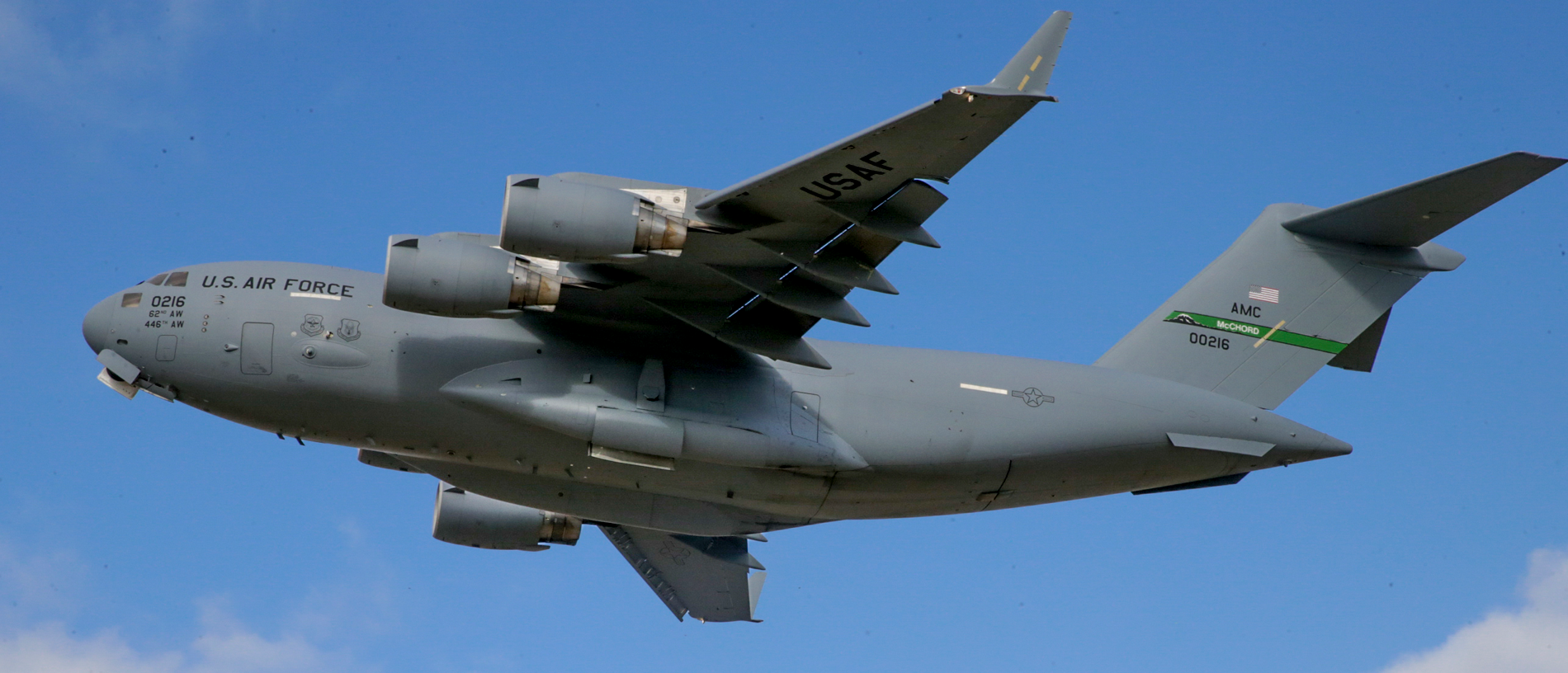 The C-17 Globemaster III is the most flexible cargo aircraft to enter the airlift force. The C-17 is capable of rapid strategic delivery of troops and all types of cargo to main operating bases or directly to forward bases in the deployment area. The aircraft can perform tactical airlift and airdrop missions and can transport litters and ambulatory patients during aeromedical evacuations.
The inherent flexibility and performance of theC-17 force improve the ability of the total airlift system to fulfill the worldwide air mobility requirements of the United States. The design characteristics give of the C-17 give it the capability to operate into and out of short runways and austere airfields carrying large payloads.  Maximum use has been made of commercial off-the-shelf equipment, including Air Force-standardized avionics.
The aircraft is operated by a crew of three (pilot, co-pilot and loadmaster), reducing manpower requirements, risk exposure and long-term operating costs. Cargo is loaded onto the C-17 through a large aft ramp and door system that accommodates virtually all of the Army's air-transportable equipment such as a 69-ton M1 Abrams main battle tank, armored vehicles, trucks and trailers. Additionally, the cargo floor has rollers that can be flipped from a flat floor to accommodate wheeled or tracked vehicles to rollerized conveyers to accommodate palletized cargo.  The C-17 is designed to airdrop 102 paratroopers with their accompanying equipment.
General Characteristics
Prime Contractor: Boeing Company
Power Plant: Four Pratt & Whitney F117-PW-100 turbofan engines
Thrust: 40,440 pounds, each engine
Wingspan: 169 feet 10 inches (to winglet tips) (51.75 meters)
Length: 174 feet (53 meters)
Height: 55 feet 1 inch (16.79 meters)
Speed: 450 knots at 28,000 feet (8,534 meters) (Mach .74)
Range: Global with in-flight refueling
Crew: Three (two pilots and one loadmaster)
Aeromedical Evacuation Crew: A basic crew of five (two flight nurses and three medical technicians) is added for aeromedical evacuation missions. Medical crew may be altered as required by the needs of patients.
Maximum Takeoff Weight: 585,000 pounds (265,352 kilograms)
Load: 102 troops/paratroops; 36 litter and 54 ambulatory patients and attendants; 170,900 pounds (77,519 kilograms) of cargo (18 pallet positions)
Learn More: https://www.af.mil/About-Us/Fact-Sheets/Display/Article/1529726/c-17-globemaster-iii/
Follow Our Social Channels
©2023 Thunder Over New Hampshire Air Show | Site designed and maintained by HERB GILLEN ADVERTISING
*This web site is not an official U.S. Air Force or Air National Guard production. No government endorsement of supporting partners is intended.